Lourdes
Christ came "to serve not to be served"

(Matthew 25:40)
The partnership between St Michael's Catholic High School and the Society of Our Lady of Lourdes started in 2009, when the school started supporting sick and assisted pilgrims travelling to Lourdes.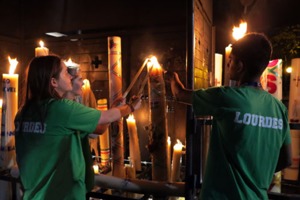 The Lourdes experience in Year 10 has allowed over 225 students and staff with a unique opportunity to put their faith into action. It is a place where the sick and the dying, who are usually kept out of sight, are moved centre stage. Alienation and loneliness are replaced with an intense solidarity.
Lourdes is a stark reminder that no-one should be written off: not the elderly, the sick nor the less gifted. All are endowed with dignity and qualities proper to a human being. In Lourdes the dignity of every human is respected and valued and a true sense of community is established.
Life is an extraordinary adventure, a God-given gift to be cherished, treasured and protected. People have found that Lourdes profoundly touches and inspires them through the witness of sick pilgrims.
Our students are involved in looking after the needs of the sick and infirm, working alongside doctors and nurses and carers with the Society, taking the pilgrims around in wheelchairs, entertaining them, accompanying them to liturgies. In recent years the school have been active in leading liturgies. The now familiar "Green hoodies" add great colour to the services and events of the week. Many students and staff return with their life changed for the better, bringing the lessons of Lourdes into the school community. Many students choose to return as helpers with the Society such is the impact of the week.
Although the pilgrimage did not take place in 2021 due to the Coronavirus we are hoping it will take place in 2022 and the Y10 students who were unable to attend, (now in year 12) will be included in the forthcoming visit and the funds that they raised have been ring-fenced for this purpose.
In the meantime, the work of Lourdes is needed more than ever by the sick and assisted pilgrims who are currently shielding themselves from Coronavirus. Their one week away for a bit of spiritual and social enjoyment has been taken away, but we have not forgotten them! We have a team of staff who remain in regular contact over the phone and by e-mail to help keep their spirits up and provide for their basic needs if required. For example, some staff dropped a few boxes of food to some the pilgrims struggling to access food in Ealing, a lovely gesture of kindness which evokes the spirit of Lourdes and continues as a key focus for the school.
The joy spread by contact with the students is tangible and creates a glow that is felt by all.

Danny Murphy, School Co-ordinator, Society of Our Lady of Lourdes
I continue to learn much from watching the students in action. My aim is to show the same kindness and love they do - they are truly inspiring.

Tom Casey, Society of Our Lady of Lourdes