Careers, Information and Guidance Online
This section of the website is intended for Students, Parents/Carers, Teachers and Employers wanting to find out more about our Careers Education programme.
St Michael's aim for our students, is to engage, inspire and motivate students to realise their potential. We believe that young people need high quality careers education, information, advice and guidance if they are to make sensible and informed decisions about their learning, training and employment.
Our Careers Leader is Ms. C Spinner and her contact details can be found below.
If you are able to support any events, offer any feedback or would like to work with us in any other way, please contact us on 01923-673760 or email spinner.c@stmichaelscatholichighschool.co.uk
Baker Clause Policy Statement 2023
SMCHS Careers Policy Sept 2023
Useful Websites
https://nationalcareers.service.gov.uk/
The National Careers Service provide information, advice and guidance to help you make decisions on learning, training and work.
https://www.apprenticeships.gov.uk/
Find out what you need to do to become an apprentice, what careers are available and which employers are offering them.
Real-life career videos, latest LMI information (labour market information), advice and information to inspire your career.
Careersbox is the national careers film library, a free careers resource showing hundreds of real people doing real jobs.
Which? Are commited to providing unbiased advice and information.
University/Higher Education
UCAS connects people to University, post Uni studies including teacher training, apprenticeships & internships. Find all the information for your next step.
A new website has been developed to help pupils, parents and teachers find out more about how subjects taken at sixth form or college can affect students' options at university and later on.
Prospects for graduate jobs, postgraduate study, advice about work experience, internship opportunities and graduate careers.
LMI – Labour Market Information
Labour Market Information or LMI is any quantitative or qualitative data about the nature and operation of the labour market. It should infuse careers provision as it helps young people explore key aspects about a particular area, including: The sectors, industries and businesses that operate there, The jobs that exist, The number and type of job vacancies, The sectors and industries that are predicted to grow in the coming years, Travel to work patterns, The kinds of skills that are/will be needed by industries and businesses, Pay and progression patterns. Two key types of LMI are: Quantitative information is usually numerical and based on rigorous research methodologies (eg studies such as the Census of Population) and Qualitative information is usually extracted from interviews or structured discussions.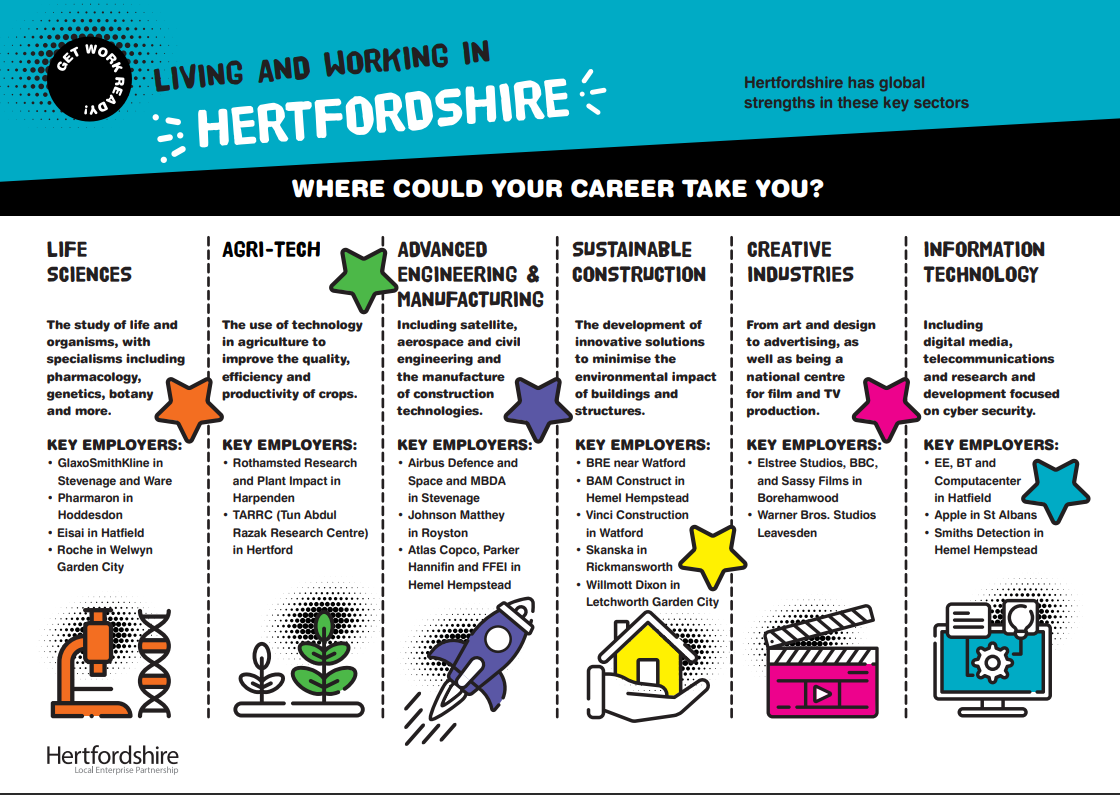 https://www.hopinto.co.uk/questions/labour-market-information/
LMI for All is an online data portal, which connects and standardises existing sources of high quality reliable labour market information, with the aim of informing careers decisions.
Apprenticeships
Work while you study – an apprenticeship is a way to gain the skills, knowledge and experience you need to get into many careers. They combine work, training, and study, letting you 'earn while you learn'. ... As a paid employee, each apprentice works alongside their studies. There are many online resources, here are a few:
https://www.ychertfordshire.org/careers/jobs-apprenticeships/
https://www.gov.uk/apprenticeships-guide
https://www.prospects.ac.uk/jobs-and-work-experience/apprenticeships/what-is-an-apprenticeship
http://www.apprenticeshipguide.co.uk/
https://www.ucas.com/apprenticeships-in-the-uk
Services For Young People (formerly YC Herts)
St Michael's have worked closely with Services For Young People for many years now and are able to use resources on their website.
https://www.servicesforyoungpeople.org/
Making Choices - Advice for GCSE Choices, Post 16 & Post 18 options
https://www.ychertfordshire.org/careers/careers-and-choices/your-choices/
https://www.brightknowledge.org/education/gcses-explained
https://icould.com/stories/choosing-your-gcse-options/
https://www.brightknowledge.org/education/what-subjects-should-i-choose-at-a-level
https://www.ychertfordshire.org/careers/national-employers-with-opportunities-for-school-leavers/
https://university.which.co.uk/advice/a-level-choices/what-a-levels-do-you-need-for-the-degree-you-want-to-study
Unifrog
In keeping with our commitment to provide students with outstanding careers guidance and tailored support when choosing their next step after school, we will now be using Unifrog; an award-winning, online careers platform. All students in Years 7, 8, 9, 10, 11, 12 and 13 will have access to this excellent website over the coming months.
Unifrog brings into one place every undergraduate university course and apprenticeship in the UK, as well as other opportunities, such as School Leaver Programmes. This make it easy for students to compare and choose the best university courses, apprenticeships or further education courses for them.
Additionally, the platform helps students successfully apply for these opportunities by noting their competencies, writing their personal statement, applications and CVs and guiding them through the process, allowing teachers to give live feedback.
Students access the tool for the first time using a sign-up code which is unique to their form group. They then login using their email address and password and they can do so from any computer, tablet or smartphone. We would encourage you to use the platform with your child so you can support them through the process of deciding their next step.
For more information, go to
Employment
For those who decide to seek employment after leaving school at 17, the world of work can be an exciting yet challenging place. Take some time to think about the kind of work you want to do.
https://www.studential.com/GCSEs/finding-a-job-after-school
https://www.notgoingtouni.co.uk
https://www.youthemployment.org.uk/career-ideas-school-leavers/
https://www.prospects.ac.uk/careers-advice/what-can-i-do-with-my-degree/education
Gatsby Career Benchmarks

The Gatsby Benchmarks are a framework of 8 guidelines that define the best careers provision in schools and colleges
1. A stable careers programme
2. Learning from career and labour market information
3. Addressing the needs of each student
4. Linking curriculum learning to careers
5. Encounters with employers and employees
6. Experiences of workplaces
7. Encounters with further and higher education.
8. Personal guidance
For more information about the project, visit